Perky-Pet® Top-Fill Hummer's Favorite Glass Hummingbird Feeder
Perky-Pet® Top-Fill Hummer's Favorite Glass Hummingbird Feeder
4
4.3
5
1
Earn 600 rewards points on your purchase! Learn More
Wide-mouth Top-Fill design for easy, mess-free filling
6 flower-inspired, soft and flexible feeding ports
Feeding stations include removable perches
Tapered feeding ports keep bees out of nectar
Built-in ant moat keeps ants out
Locking channel minimizes leaking
Entire feeder comes apart for easy cleaning
Holds up to 36 oz of nectar
Best Used For





Perky-Pet® Top-Fill Hummer's Favorite Glass Hummingbird Feeder
The Perky-Pet® Top-Fill Hummer's Favorite Glass Hummingbird Feeder 36 oz is a favorite of birders and hummingbirds alike. The charming fluted bottle with a wide-mouth opening, and Top-Fill design ensure that filling is always easy and mess-free! While you enjoy time saved from filling and cleaning, your hummingbirds won't be able to resist the feeder's lifelike flower-inspired feeding ports. They are bright, soft and flexible just like the flowers they flock to in nature! This feeder also features and ant moat and natural bee guards to keep insects out. Find the best seat in your house now, because hummingbirds are sure to be on their way.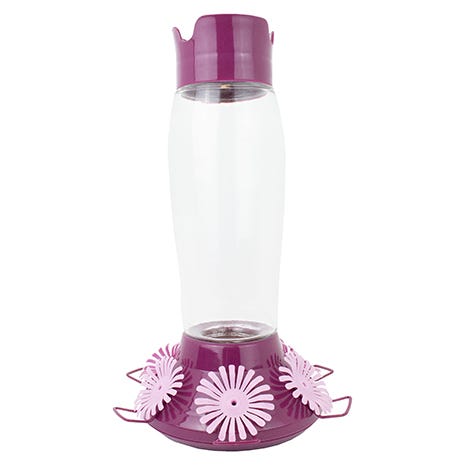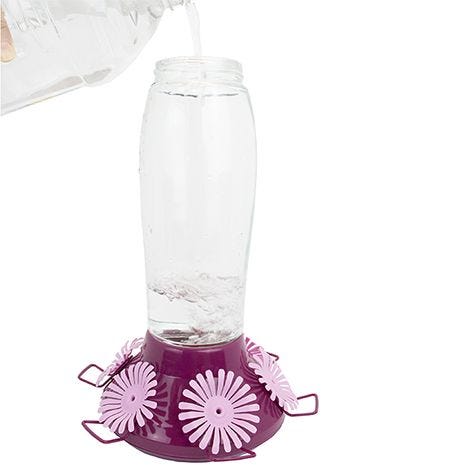 Unique Top-Fill Design For Easy Filling
No more messes and no more spills! Our unique feeder features patented Top-Fill technology so that filling is never a hassle. Simply remove the lid and pour up to 36 oz of nectar into the convenient wide-mouth opening to get your feeder up and running – there's no need to invert the bottle!
Feeding Ports Inspired By Nature
Hummingbirds are accustomed to imbibing nectar from flowers. That's why we've developed this feeder with soft, flexible flower-inspired feeding ports to offer a more natural look and feel. The color and realistic flower shape are perfect for attracting hummers, while the six ports ensure there's enough room for multiple birds to dine simultaneously.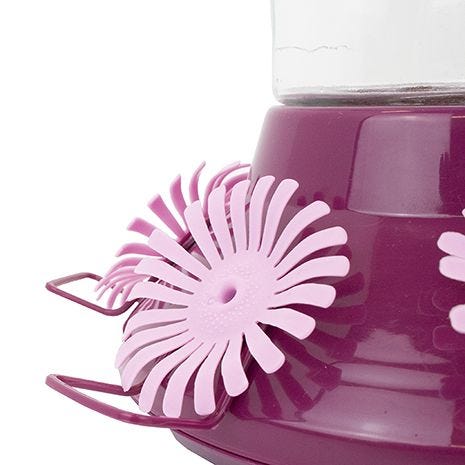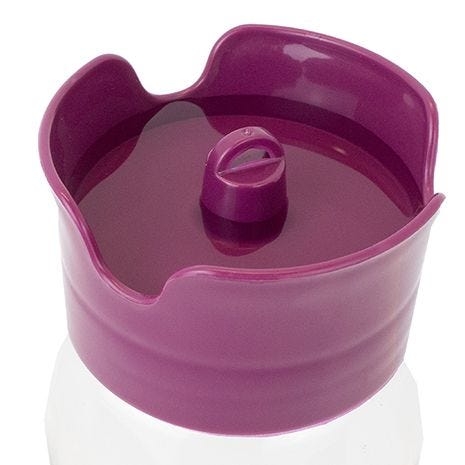 Keep Insects Out
With this feeder, there's no need for an added bee guard. The specially designed feeding ports feature a long tapered "stem" that prevents bees from gaining access to the nectar, while hummingbirds will have no trouble at all! It's a natural way of keeping out pesky bees. There's also a built-in moat to prevent ants. Simply fill the cap with water to create a barrier that ants can't pass.
Removable Perches
Each of the six feeding stations features a removable perch, so you can hang your feeder with or without them. By using the feeder with the perches on, you can give your hummingbird friends a place to rest while they dine. Or, if your hummingbird feeders are frequently plagued by woodpeckers or other unwanted birds, you can use the feeder without perches. Hummingbirds can hover while they feed, but other birds can't.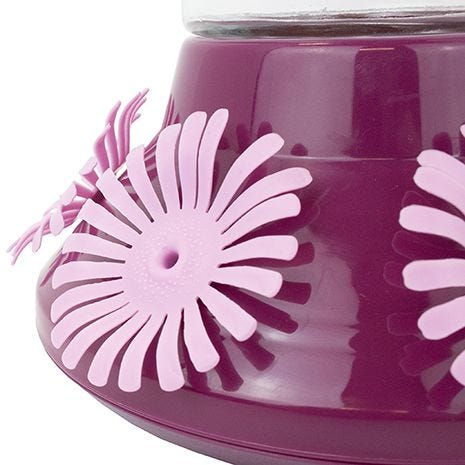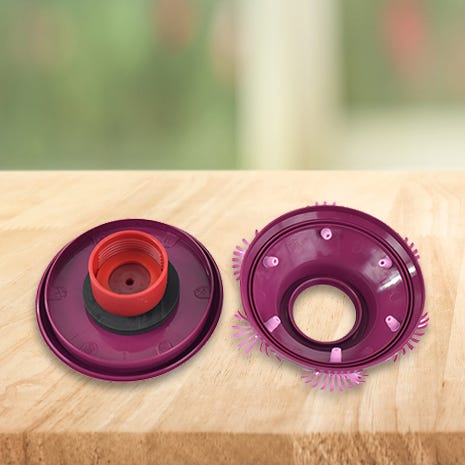 Locking Channel Minimizes Leaks
If you've ever walked outside to find drops of nectar on the ground from a leaky hummingbird feeder, you know how frustrating it can be. Not only is it a waste of nectar, but it's a mess as well. Issues like those are exactly why we've created this feeder with a locking channel in the base. It creates a nice tight seal so there's no more leaks!

Note: Feeders may loosen during shipment. Before filling for the first time, tighten the bottle onto the base to ensure no leaking.
Comes Apart For Easy Cleaning
Hummingbirds prefer to visit fresh, clean feeding stations. To make that easier, this feeder disassembles for effortless cleaning. Easily separate the base, bottle and lid. You can even pull apart the base and remove the feeding ports and perches! Remember to clean your feeder at least once per week with a mild soap and water solution to prevent mildew buildup; clean more often in hot weather.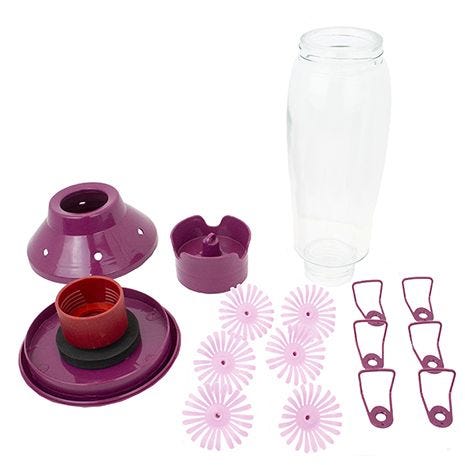 Perky-Pet® Top-Fill Hummer's Favorite Glass Hummingbird Feeder Product Details
Do you want to know more helpful details about the Perky-Pet® Top-Fill Hummer's Favorite Glass Hummingbird Feeder? Take a closer look at the in-depth specifications for this product.
Perky-Pet® Top-Fill Hummer's Favorite Glass Hummingbird Feeder
Model #
9203-6
Height
13.19 inches
Diameter
7.87 inches
Capacity
36 oz
Ports
6
Materials
Glass, plastic
Perky-Pet® Top-Fill Hummer's Favorite Glass Hummingbird Feeder - 36 oz
Model Number
9203-6
Weight
1.43 lb
Dimensions
15.8 in H x 8 in W x 8 in D
Capacity
36 oz
Customer Reviews
0%
of customers
recommend this product
I bought one of these last year and loved it.............until this year. Now it leak around the base where the 2 pieces fit together. I have tried everything short of gluing the 2 pieces together. Before I realized I would have an issue I did buy another and it is not leaking. Perky Pet.....what is the solution. Surely this feeder lasts more than one year!
Question by: Sue Ruzicka on May 5, 2023, 6:37 PM
We recommend disabling and reassembling the feeder, making sure all connections are tight. If the feeder is still leaking, please contact us directly. The feeder is backed by a one-year replacement policy.
Answer by: Susan (Admin) on May 9, 2023, 10:49 AM